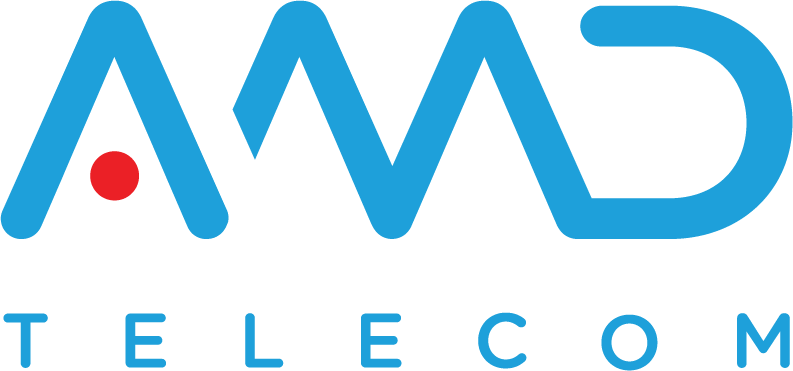 Your Mobile Network Co-Operator
AMD Telecom (www.amdtelecom.net), operates around the globe providing SMS & Voice Connectivity, SMS Monetization, Messaging Services, Verification Services, Voice Services, Phone Numbers, Clearance & Settlement, and Roaming services, to a large spectrum of companies, such as Mobile Network Operators, Telecom Vendors, Social Networking Platforms, Global Email Providers.
Locations:
Offices located at: Switzerland, Greece, Russia, Spain, UAE, Italy, Bulgaria, India.
Customers:
~1,200 active customers including Google, Microsoft, UBER, WeChat, FoodPanda, AXA Insurance, Mail.Ru, National Bank of Greece, Aegean Airlines, etc.
Messaging
Text Messaging:
A2P SMS messaging provided through API, or a web interface or SMPP
Global connectivity, covering more than 1.200 networks
Live reporting, with detailed information
Two-Way SMS:
Bilateral communication through SMS. Send and receive SMS through API or Web Interface
Global connectivity
Live reporting, with detailed information
Viber Messaging:
Enterprise messaging through Viber messages delivered through API or Web Interface
Email Messaging:
Email messaging provided through API, Web Interface or SMTP
Two Factor Authentication:
User Transaction Authentication through SMS or Voice, globally.
Provided via API
Voice
Numbers
Verification
Powerful background and deep industry knowledge acquired throughout the past 20 years, being actively involved with communication.
Services world's largest companies in various verticals across Retail, E-Commerce, Consumer, Financial institutions, insurance companies, software houses, etc.
AMD Telecom is very serious about its customer service. The company maintains a 24/7 year-round customer support to assist customers and partners with whatever they might need.
Offers scalability on-demand on all APIs, so hardware additions, upgrades, etc., are inconsequential, whether one wishes to increase or reduce SMS, Viber, Email, or Voice traffic.
Rated in the Top 10 awarded vendors offering Roaming and Interconnection Products and Services, by Rocco Customer Service Research amongst MNOs, out of a total of 92 Vendors.
Maintains excellent direct relationships with more than 1,200 Mobile Operators globally, and thus is able to provide top-notch SMS and Voice services anywhere in the world.
Ensures that all SMS and voice traffic go through the best available routes (including more than 230 zero hops directs), at the best possible price of the market.
Provides quality & reliability of service, as all APIs and fully redundant communication platforms of the company have been developed internally, ensuring continuity, quality, and security.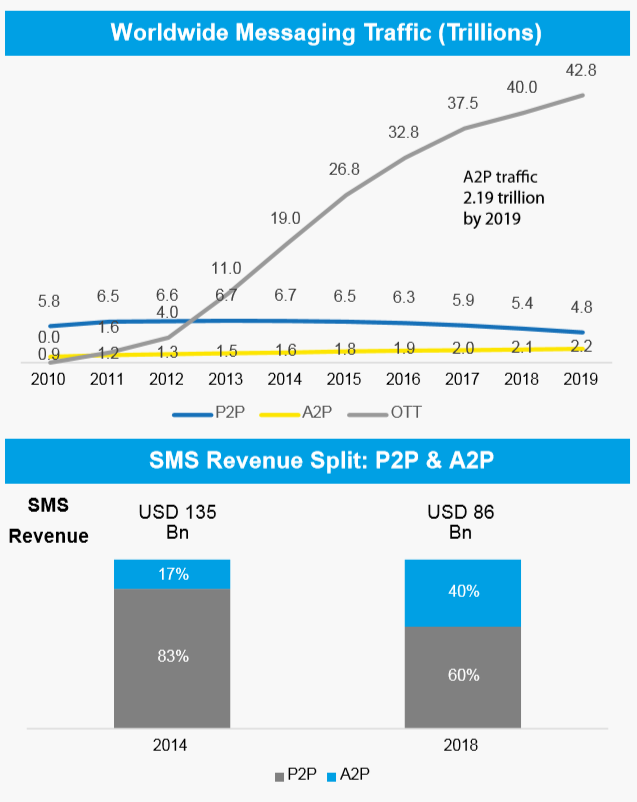 Worldwide Messaging traffic is immense. A2P message volume has grown to 2.19 trillion messages by 2019
Popularity due to integrated social dynamics, more advanced features than SMS/MMS, and negligible cost, often free
OTT Messaging is leading to a decline in P2P Messaging
At the same time, enterprise adoption of A2P SMS is partially offsetting the decline of consumer SMS messaging
Enterprise messaging (A2P) represented the only area of growth accounting for ~40% of SMS revenue in 2019
The global A2P SMS market constituted 17% of SMS revenue in 2014 and reached 40% by 2018
Mobile penetration continues to grow at a fast rate across emerging markets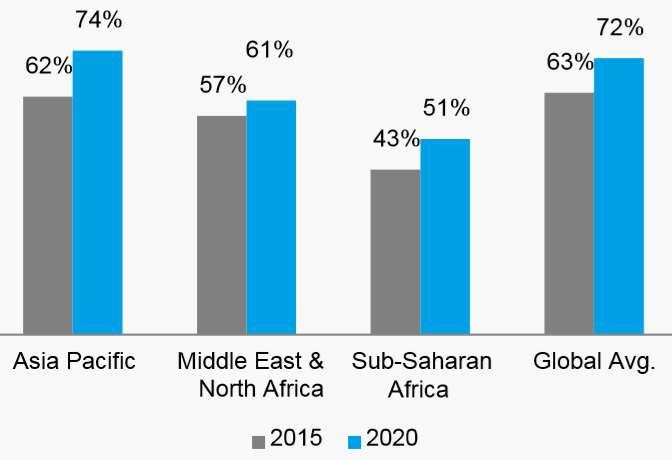 Mobile penetration continues to grow at a fast rate across emerging markets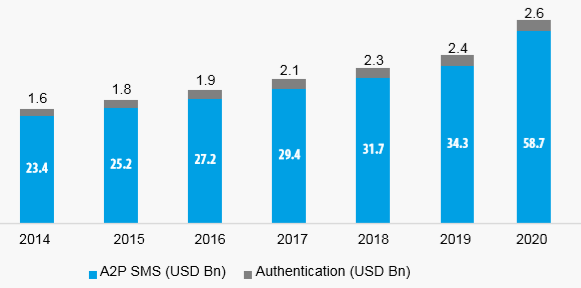 A2P SMS and Authentication will be a 58.7 Bn USD market globally by 2020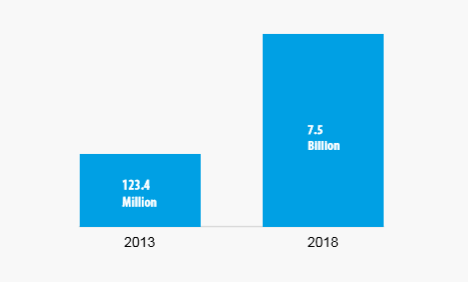 Cloud Communication platforms revenue was $123.4m in 2013 and $7.5 Bn in 2018 at a 127.5% CARG
Mobile-based SMS is the most widely used communication channel
6.1 Bn people actively use SMS and send ~7 trillion messages per year
Between 2010 and 2015, A2P SMS has grown from 11.7% to 22.4% of SMS traffic worldwide
Live reporting, with detailed information
A2P SMS has evolved from simple alerts to sophisticated services
Mobile-based communication is finding fast adoption across industries
Consumer facing industries such as retail, CPG, financial services, travel and e-commerce has already adopted A2P SMS as an important channel of communication
IVR-based voice and email communication is now also finding significant usage
Use cases include marketing, special offers, loyalty, authentication, surveys, check-ins, statements
2000
AMD Telecom is established as SMS Hub and launches the web platform messaging service.
2007
AMD Telecom is incorporated into AMD Telecom S.A.
2009
AMD Telecom is certified bt GSMA as SMS Hub. It is the only Greek company still with this certification.
2010
AMD Telecom is certified as a mobile phone carrier in Greece and Poland obtaining its proprietary numbering plan.
2011
AMD Telecom signs an important contract as the sole SMS Hub for Turkmenistan. The same year the Roaming Department for Turkmenistan is founded.
2012
AMD Telecom obtains a new data center in Germany improving the Quality of Service.
2016
AMD Telecom launches the omnichannel communication platform Routee and serves clients like Google, Microsoft, and Uber.
2019
AMD Telecom launches the WayMore Marketing Automation Platform.
Customers / Mobile Network Operators
Customers and Wholesalers
The Global Telecommunications Provider
Vast Experience Across the Globe
Connected to more than 1,200 Mobile Network Operators in more than 200 countries, providing bidirectional SMS and Voice services with broad international coverage.